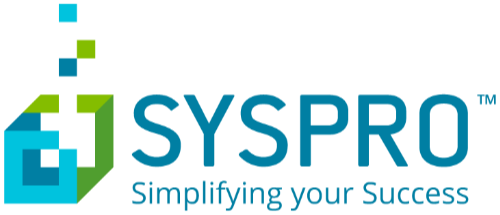 CIS Configurator – for SYSPRO
Manage all components in SYSPRO
Product logic and rules created in CIS
Only valid options allowed.
Dynamic pricing based on Business Partner/Customer
Create a Sales Quote, Sales Order
Configure, Cost and Price
Smart Part Numbers/Product Specifications
24/7 Access for Sales Personnel, Customers, Resellers and Distributors
Customer information and pricing flows from SAP Business One
Professional looking Sales Quotes created quickly!
Accurate pricing and item list if required.
Document Management, attached to a Quote/Order
Approval process, Concessions and Alerts
Revision management
Custom Item and Custom Description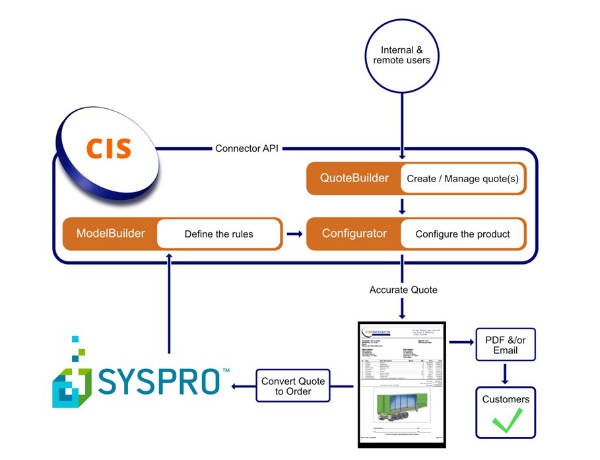 SafeWay Garage Doors
SAFE-WAY manufacture custom garage doors that are shipped throughout North America and have been using SYSPRO ERP for many years. With an ever-expanding product range for its custom products, they find maintaining Bills Of Materials in SYSPRO challenging and time consuming. As the BOM's are not static SAFE-WAY use CIS' Smart Part BOM identifier, which allows a series of segments to be assigned to certain attributes. When SAFE-WAY discovered that CIS could replicate their sequencing and in a very short space of time, it was an easy decision to purchase CIS Configurator.
Instead of tweaking every Sales Order SAFE-WAY can now create the Bill of Material by using CIS Configurator on the fly using the Smart Part number (Example 50-0806-0700-0404-AFS-T3AS0-E) as the identifier and creating the BOM for SYSPRO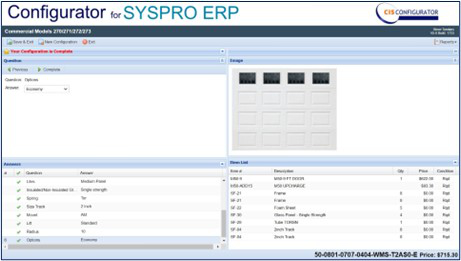 Southeastern Aluminum Products
Southeastern Aluminum services the United States, Canada, and the Caribbean from manufacturing facilities in Jacksonville, Florida; Indianapolis, Indiana; and Phoenix, Arizona. Distribution to our dealers is accomplished using our own fleet of tractor trailers in the Southeast, Mid-Atlantic and Mid-West regions.
Since 1952, Southeastern Aluminum Products has been carving its place in the bath enclosure industry by maintaining a philosophy that allows for an ever growing and changing product line, tailored to the customer's wants and needs.
CIS Configurator is used by the network of Resellers, to configure just about every combination available, whilst creating a Price, Accurate Bill of Material, Glass shapes with dynamic sizes, including any drill holes needed for handles.