Sales Team and CSR's
CIS Configurator is a web-based quoting application ideal for Sales personnel, who sell products with many options. Users create Sales Quotations and Sales Orders quickly and easily using our Configurator, using the logic and rules, stored by the product expert. CIS Configurator uses the SAP Business One, Customers, Delivery/Ship-To's, Items and price lists ensuring correctly quoted product(s) with accurate pricing applies. CIS can push Quotes or Orders back to SAP Business One.
Customers and Resellers
Extend the reach to your Customers and Resellers by giving access to the Web Portal with specific visibility and functionality assigned to a user, allowing them to see the cost from you and the recommended price. You can allow them to add their markup and additional components on a quote report with their logo. Other features include an Approval Process and a Special Requirement, all with Email alerts assigned to your Sales team or management.
Capture the custom product logic
CIS Configurator is an intuitive tool that allows you to build your custom product logic into SAP Business One.
Programming experience is not required and training is normally completed in hours. Graphics can be added to illustrate product features of the configuration built by the user.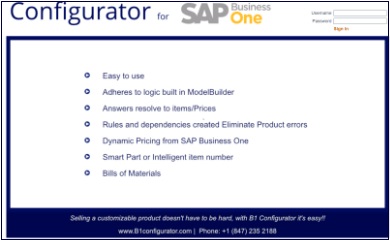 Bills Of Materials Created on the fly
Logic is applied using exceptions, dependencies and relationships; assign items/components to answers ensuring an acurate product can be quoted/ordered with an accurate Bill Of Material based on choices selected by the user. We support all SAPBO BOM types.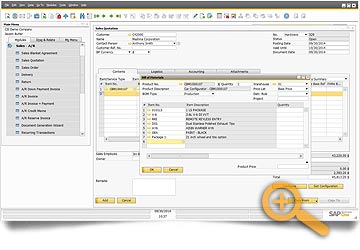 Resources & Stages Configured in CIS
If your version of SAP (9.3+) has Resources and Stages, CIS provides the tools to add these to the Configuration logic, thus ensuring a correct BOM and relevant Resources and Stages.